Master in Communication Design, Innovation and Digital Mediation
The Communication Design, Innovation and Digital Mediation course offered by the Master's programme is part of the Information-Communication Master's programme of the Lyon-Saint-Étienne site.
The specificity of this course is to place the contributions of design, social science methodologies and digital methods at the heart of the training in order to encourage the consideration of digital uses and data in the innovation and mediation processes.
It aims to acquire skills in the implementation and communication of digital projects (usage studies, digital tools, web development, social networks, graphic design, video) as well as in the production of research theses.
Each year of the Master 1 and Master 2 courses ends with a work placement, representing a minimum working time of 2 months.


Courses
The 1st year of the Master aims to acquire the theoretical fundamentals in the fields of communication and the mastery of digital tools (design, graphics, video but also collaborative work)
Semester 7
Theoretical fundamentals
Contemporary approaches to communication issues
Practices, audiences and uses
SPOC digital transition
Web tools and culture
Digital identity
Web languages
Graphic design
Video and multimedia workshop
Project design
Project engineering
Thinking and participative design
Verbal communication (dramatisation)
Specialised English
Research design
Methods in SIC
Atelier pre-mémoire (note of intent)
SPOC quantitative analysis
Professional insertion
E-Portfolio
SPOC professional insertion
Professional project
---
Semester 8
Theoretical fundamentals
Graphic and visual semiology
Computer graphics/visualisation workshop
Digital publishing
Web tools and culture
Service design workshop
Digital fabrication workshop
Research design
Pre-memory workshop (Mind Mapping)
Professional integration
Professional practice options (written astonishment) Option 1: Internship
Option 2: Agency
Option 3: Survey
The 2nd year of the Master's programme is a deepening and widening of the range of theoretical and practical tools of the communication designer. All of the courses are structured to encourage the completion of an innovative digital project and a professional thesis, which are the two main expectations of the Master. They guarantee the student's development of skills and expertise throughout the two years of the course
Semester 9
Theoretical fundamentals
Sociology of innovation
Law and digital economy
Web tools and culture
Web language
Graphic design
Multimedia workshop
Videotelling workshop
Project design
Digital fabrication workshop
Service-product design workshop (user-centred)
Specialised English
Research design
Issues and uses of data
Digital methods (text mining)
Pre-thesis workshop
Professional integration
E-portfolio
Project call
Professional project
---
Semester 10
Project design
Digital communication design
Participatory financing workshop
Exhibition and public communication
Intentionality and verbal communication
Restitution and publicisation of projects
Research design
Workshop on writing and presenting a thesis

Professional integration
Professional practice options (written astonishment) Option 1: Internship
Option 2: Agency
Option 3: Survey
Internship / Work placement
Depending on the student's professional orientation, he or she chooses between an internship, an "agency" project (based on client specifications) or a survey on issues related to the world of research
---
The advantages of the course
Innovative teaching methods for project-based learning!
The Master's courses are organised in group or individual "project mode" and include external service providers for "challenges".
The project mode is ideal for combining theory and practice inherent in the innovation process.
It is also an opportunity to work in a multidisciplinary manner, in the form of workshops (design thinking workshop, digital manufacturing workshop, service design workshop) with students from other disciplines, enabling the development of multiple skills and transversal knowledge.
Students have access to state-of-the-art equipment for learning related to new technologies and adapted to the professional world: a video recording studio, cameras, tablets and interactive boards…
Classes are held in an environment that is in line with these new practices, such as hybrid rooms and co-working spaces.
Professional lecturers at the heart of the course: graphic designers, photographers, videographers, web designers, etc. will train you to give you the skills you need for your job as a communicator.
#IRAM Factory
The Master's programme includes a communication agency (IRAM Factory) run by students to enable them to respond to orders and provide services.
The objective is to prepare students for the realities of the professional world, where teamwork and project management are essential.
Discover the student's twitter feed, feedback on workshops, projects and work.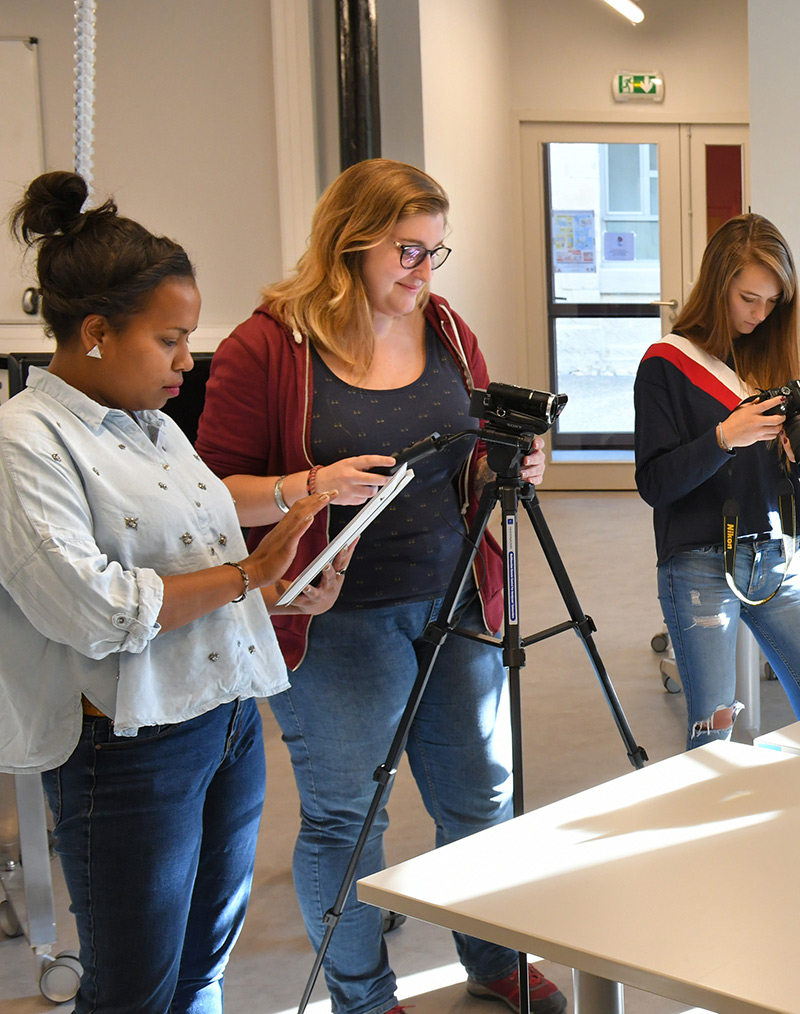 Admission
Holder of a Bac +3 from the humanities and social sciences, sciences and techniques, art and design.
Inscriptions
Students apply via a dedicated platform from March 2022.
Admission requirements :
File review, resume, motivation letter.
Job opportunities
Skills developed
Computer graphics, multimedia content design, project management, communication strategy.
Targeted professions
Digital project manager, Communication officer.
---
Course fees
University fees of around 243€ per year of study