Bachelor Global Communication & Digital Design
Télécom Saint-Etienne is the first public engineering school to offer a Bachelor's degree in science and engineering, the new professional diploma format at bac+3 level set up by engineering schools and giving the degree of Licence. Our training is accredited by the CTI.
3 years of preparation for jobs in communication and web technologies !
The Bachelor Global Communication & Digital Design is a 3-year course, unique in France, which enables students to acquire a core of fundamental skills in communication, IT, web and data processing.
Courses
A course built on three pillars: doing, knowing and acting
Participate in the development of innovative strategies, the design of digital communication content and theoperation of digital spaces (websites, social networks and digital applications). You will also take part in the design of interfaces and information (UX and UI Design) in order to propose a fluid and ergonomic navigation path
Finally, specific teaching on data and data visualization will teach you how to process and analyze data visually
Learning by doing
Discover the different functions of the company, the sectors of activity and the associated professions to become aware of its assets and discover teamwork via the numerous professional missions and company games.
Communication and Digital Humanities
Visual communication & media: image analysis, sociology of the media/audience/Internet
Writing workshop
Web design
Web languages
User interface (Ui design) and user experience (Ux design)
Communication design
Graphic design (getting started)
Social media & community management
Audiovisual tools
Referencing
Digital tools and web culture
Graphic design (getting started)
Discovering CMS
Audiovisual tools
Digital data fundamentals
Storage and statistics
Basic algorithms
Projects
Introduction to survey
work CMS project and writing for the web
Web study project: integration, multimedia
Datavizualisation: discovery
Creative workshop
Video script workshop
Professional and international integration
English
Learning to learn: MOOC
Flipped classroom
Enhance your career: communication professions

Fundamentals of Information and Communication Science (ICS)
Image semiology
Digital communication of organisations
Digital culture and usage
Writing techniques and workshops
Internship
Minimum 4 weeks.
Developing your skills
In addition to the theoretical courses in the first year of the Bachelor's programme, you will develop professional skills, what to do and how to behave in a company in order to enhance your employability
Communication and Digital Humanities
Public and territorial communication
Quantitative research
Writing for social networks
Web design
Datavizualisation: intermediate notions
Web languages: advanced front-end notions
Relational databases: design principles
Communication design
Graphic design: intermediate level
CMS: intermediate uses
Audiovisual tools
Social media & referencing
Digital communication design
Data analysis and production of indicators
Audiovisual tools
Graphic design: intermediate level
CMS: advanced uses
Web languages: discovery of back technologies
Projects
Workshop
Design thinking project: digital innovation and uses, designing an empirical survey
Web study project: Ui / Ux integration
Communication project management
Pre thesis
Digital documentary research
Professional and international integration
English
Social law
Web project: e-portfolio
Valuing your career: web design professions
Fundamentals of Information and Communication Science (ICS)
Sociology of professional practices
Digital communication of organisations
Digital culture and usage
Writing workshops

Internship Minimum
8 weeks
---
At the end of the first two years, you will have acquired a broad base of skills focused on project management and the major areas of digital: design, UI/UX, web development, digital marketing, communication.
Acting as a professional
The programme focuses on the study of marketing and communication strategies implemented on the web, the foundations of e-commerce and the tools used to acquire and retain customers and visitors to commercial sites
Communication and Digital Humanities
Social and ethical issues of digital communication
Cultural study of communication
Sociology of innovation
Digital Communication Design
Graphic design: advanced level
Audiovisual tools
Web languages and technologies: intermediate back concepts
Web languages and technologies: advanced back concepts
E-commerce focus
Graphic design: advanced level, audiovisual tools
Projects
Web study project: delivery
CIS research project
Workshop
Professional and international integration
English
Sharing and valorisation of work-study
Fundamentals of Information and Communication Science (ICS)
Digital communication in organisations
Discourse analysis methodology
Communication and digital legislation
Work-study
Internship / Work placement
The immersion of our students in the professional world is essential, which is why during the three years of training you will experience a variety of professional situations: internships and work-study programmes will punctuate the training.
Thus, you will have to carry out an internship of at least 4 weeks in the 1st year and at least 8 weeks in the 2nd year. The final year will be spent working in a company, which will enable you to stand out in your job search. You will also have access to special support throughout the course (company tutor and tutor at the school to monitor your professional project and adapt it to your skills).
---
The advantages of the course
Innovative teaching methods for project-based learning!
Our courses are built around new learning methods, an innovative and professionalising pedagogy with workshops, professional workshops, collective projects and creative sprints. Students have access to state-of-the-art equipment for learning linked to new technologies and adapted to the professional world: a video recording studio, cameras, tablets, interactive boards, etc

Classes are held in an environment that is in line with these new practices in hybrid rooms and co-working spaces.
Professional lecturers at the heart of the course: graphic designers, photographers, videographers, web designers, journalists and teacher-researchers will train you to give you the skills you need to become a communicator.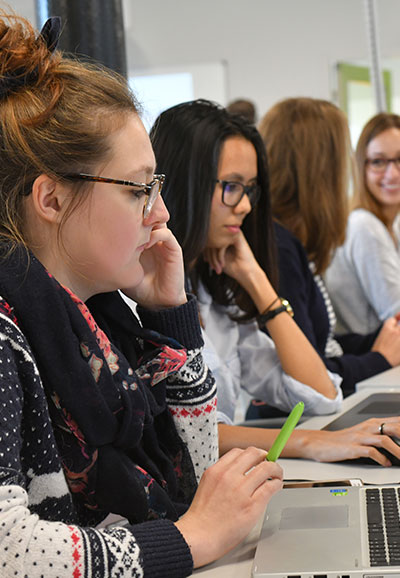 Admission
Holder of a general, technological or professional baccalaureate.
Inscription :
Apply on the Parcoursup website between 20 January and 29 March 2022.
Recruitment is done exclusively on Parcoursup.
Parcoursup instructions for use :
In "Search for a course", type "Bachelor communication Saint-Etienne" to discover our file and apply for our course.
Key dates:
Eligibility: April 15, 2022
Oral exams: May 18, 2022
1st phase of Parcoursup admission: June 2, 2022
Job opportunities
Skills developed
Strategy development,
Multimedia content design,
Community management,
Web design, uxdesign, uidesign,
Data analysis and processing,
Design and management of the technical implementation of digital projects.
Possible occupations after this course
Assistant digital project manager,
Communications officer,
Community manager,
Multimedia content creator,
Web integrator,
Junior web programmer,
Assistant data analyst
Data manager
Further study
It is possible for students to continue their studies within the school via our Master's degree in Communication Design, Innovation and Digital Mediation, but also within Master's degrees in communication from other establishments in student training or in work-study.
---
Course fees
1st and 2nd year: 4500€
350€ if a scholarship holder
3rd year: cost of the training paid by the employer.