Because each project is unique, so is our support
The USE'IN incubator, attached to the Jean Monnet University and run by the Télécom Saint-Etienne engineering school, has been supporting start-up projects for 10 years now. Historically located in the High Technologies building, we are now in our new premises in the heart of the Manufacture district of Saint-Etienne (42000), in the Knowledge and Innovation Centre called LA BASE.
LA BASE covers 300 square metes and consists of 8 individual offices, a meeting room and a 70 square meters common area located in the heart of the Cité du Design in Saint-Etienne.
The "Centre des Savoirs et de l'Innovation" is a 7,400 square meters space dedicated to bringing together the academic and business worlds in a space dedicated to research and innovation. Students, researchers, companies, startups… a place where innovative tools and good ideas can be shared.
Our mission is to participate in the emergence of your startups by supporting your digital or technological projects. The incubator accompanies you throughout your journey, from the reflection of an idea to the creation of a viable and sustainable company. We are committed to creating a favourable environment for the development of your project: meetings, training, events, coworking spaces, etc.
This way, you can stay focused on your objective: launching your start-up!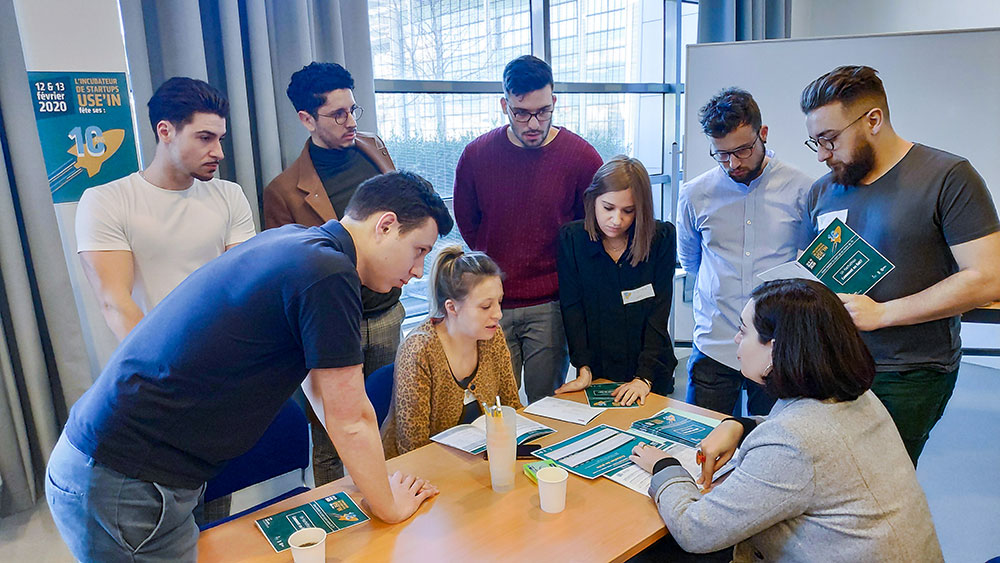 9 reasons to join the incubator :
Benefit from personalised follow-up.
Depending on the progress of your project (ideation, acceleration, etc.), we adapt our support (business plan, financing files, etc.).
Access to networks of experts:
individually or collectively, meet experts on your specific issues (SEO, sales, management, communication…)
Participate in events organised by the incubator:
Training courses, workshops on entrepreneurial themes, after-work sessions with other project leaders..
Connect with key players in the Saint-Etienne ecosystem:
BPI, Saint-Etienne Métropole, French Tech, INPI..
Benefit from 6 to 24 months of support
Occupy a co-working space in the heart of Saint-Etienne's creative district,
in the high-tech building with access to meeting rooms and a coffee machine!
Benefit from a privileged relationship
with the various laboratories of the Jean Monnet University.
Share your adventure with the other startups in the incubator
Involve students from Télécom Saint-Etienne engineering school
in your thinking thanks to the research and innovation projects
to know
The advantages
– A team that is always ready to listen to you
– A 70 square meters coworking space
– Individual offices for each startup
– A table football
– A kitchen area
– Green spaces at the office door
– In the heart of the most creative district of Saint-Etienne
– Joining LA BASE means you are no longer alone.
The incubator is open to all project leaders (students, restaurant owners, engineers, footballers, hairdressers, gamers, delivery people, etc.) without age limit, alone or in a team. The only condition is that the project must be digital or technological.
Your company is already created and you want to join us? It is possible if it is less than 2 years old

Discover the startups currently incubated: https: //labase.telecom-st-etienne.fr/
Do you know
The National Student-Entrepreneur Status?
Accessible throughout France in one of the 33 PÉPITE (Student Pole for Innovation, Transfer and Entrepreneurship), the National Student-Entrepreneur Status allows students to build and develop their entrepreneurial project as part of their school curriculum, within their institution, in addition to receiving support.