Licence 3 in alternation "Innovation, Design and Digital"
The "Innovation, Design and Digital" work-study degree enables you to acquire a core of fundamental skills in information and communication sciences and practices. The reference bases taught are common with those of the Licence 3 at the University of Lyon 2 and are completed by a specific course at Télécom Saint-Étienne.
The course is offered on a one-year sandwich course, which allows you to complete it with specific professional experience.
You will learn to participate in the design, creation and operation of digital spaces (websites, social networks and digital applications), to prioritize information and to make it intelligible to users. Taking into account the design of interfaces will enable you to offer them an adapted navigation path. Finally, specific teaching on data and data visualisation will teach you to take into account and visually process both individual and collective data.
Courses
1st semester
Discourse and Communication
Discourse and society
Discourse analysis
Societal and economic issues of communication
Socio-economics of cultural and media industries
Social issues of the digital age
Professional practices and research in communication
Thematic research project
Digital creation
Data and society
Data Culture
Data Visualization
Workshop
Design and communication
Computer graphics workshop
Webdesign workshop
Professionalization
Work-study
Languages
Professional project
Follow-up and development of work-study
2nd semester
Thematic approaches to communication
Thematic seminars
Design, digital, use and user experience
Digital innovation and uses
Communication practices and UX Design
Mediation and Digital
Digital culture and mediation
Communication practices and mediation devices
Video workshop
Research in CIS
Thematic research project
Professionalisation
Alternance
Languages
Sharing and valorisation of alternance
Alternance
A year of experience on your CV! A real plus for your job search.
Special support throughout the course (company tutor and school tutor to monitor your professional project and adapt it to your skills).
Alternation between the school and the company:
– 400 hours of classes
– 1000 hours minimum in the company
– 100 hours of independent projects
Paid training according to age and type of contract.
Remuneration for a professional training contract: see the official table
Remuneration for an apprenticeship contract: see the official table
---
The advantages of the course
Innovative teaching methods for project-based learning!
Our courses are built around new learning methods, an innovative and professionalising pedagogy with workshops, professional workshops, group projects and hackathons.
Students have access to state-of-the-art equipment for learning related to new technologies and adapted to the professional world: a video recording studio, a radio studio, cameras, tablets and interactive boards. Classes are held in an environment that is in line with these new practices, such as hybrid rooms and co-working spaces.
Professional contributors at the heart of the course: graphic designers, photographers, video makers, radio presenters, web designers, teacher-researchers, etc. will train you to give you the necessary skills for the profession of communicator.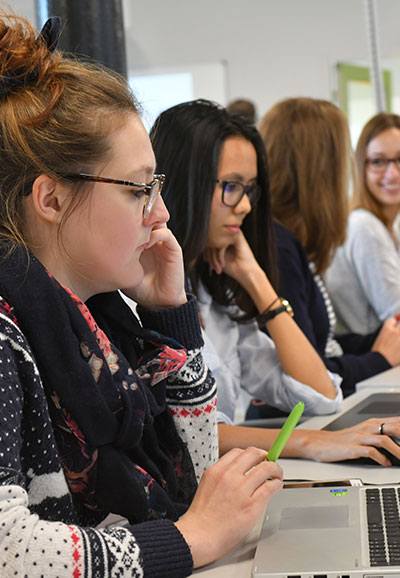 Admission
Holder of a BAC +2 L2 Information-Communication, Human and Social Sciences, a DUT Info-Com MMI, or tertiary DUT (TC, GACO…)
Official recruitment period :
Applications on eCandidat from 26 January to 23 March 2022.
Pre-selection on the basis of a dossier (resume, covering letter and production portfolio).
Admission Requirements:
Depending on the applications, candidates may be invited to an additional interview to check their aptitude and motivation to follow the course.
In the event of eligibility: information and support meeting to find a work-study programme on the 31th of April 2022 (compulsory, by invitation only).
Outside this official period, and depending on the capacity of the class, other candidates may apply.
Please note that applications selected after the official recruitment period will not benefit from the work-linked training support.
Job opportunities
Skills developed
Multimedia design, community management, web design, uxdesign, data analysis and processing, project management.
Possible jobs after this course
Digital referent, digital communication manager, multi-purpose communication manager, multimedia designer/editor, social network manager.
Further study
It is possible for students to continue their studies within the school via our Master's degree in Communication Design, Innovation and Digital Mediation, but also within Master's degrees in communication from other establishments, either as students or as part of a sandwich course.
---
Course fees
Free for students
Fees for companies: €6800 for apprenticeship contracts
€4800 for professional contracts
Testimony
This year 2019-2020 was full of new experiences and personal discoveries for me. In September, I joined the Télécom Saint-Etienne school to train in digital communication. By joining this school, I also joined the fabulous Cadeau Maestro team where I am currently doing my work-study as a web assistant.
Indeed, here I am, a student in L3 information and communication at Télécom Saint-Etienne to be trained to communicate and create content on the web and on social networks. This year of studies was a real revelation for my professional and personal career. It allowed me to discover that I had a real passion for communication, but also for producing and creating content. Having completed this year of the degree, I can say that thanks to it, I want to make my job a communicator's job.
As far as my work experience is concerned, I'm doing it at Cadeau Maestro as a web assistant. But you're probably wondering what this job involves? It's very simple, I'm in charge of animating and creating content on the company's website. My main tasks are to write product sheets and blog posts as well as to manage the posts on the Pinterest account. Of course, I have many other secondary missions that allow me to discover other aspects of the web world, such as everything related to SEO.
Do not hesitate to contact me if you have any questions about my professional or academic background!
Fanny